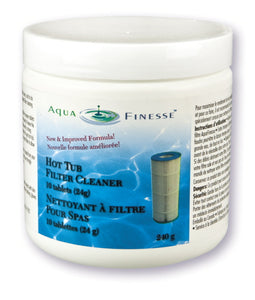 Aqua Finesse® Filter Cleaner Tablets
Regular price $24.99 $19.99 Sale
To maximise the enjoyment of your AquaFinesse® hot tub water, it is essential to keep your filters clean, we recommend cleaning your filters at least once a week. To assist you with this, we at AquaFinesse® have developed a fast acting, environmentally friendly 'Fizz' tablet to keep your filter in optimum condition. Unlike traditional filter cleaning solutions which need a massive 24 hours soaking period, the AquaFinesse® filter cleaning tablets whizz through your filters in just one hour!
Important: Good water quality is dependent on a clean filter. Each box contains 20 individually wrapped filter cleaning tablets.
Instructions for use:
•Remove filter
•Fill a bucket with 10 liters of warm water
•Add 2 AquaFinesse filter cleaning tablets
•Place the filter into the bucket, and leave for at least 1 hour (If your filter is heavily soiled you may leave it in the cleaning fluid for up to 24 hours)
•Ensure that the filter is completely submerged in the cleaning fluid, if this is not possible turn the filter regularly to ensure a thorough clean.
•After 1 hour, rinse the filter in the upright position with a strong stream of tap/hosepipe water working from the top to the bottom
•Insert filter back into the filter housing of your hot tub
(If possible allow the filter to dry before replacing. We recommend buying a second filter to allow you to do so)